5 rooms

Sleeps: 17

Sleeps: 8 adults and 9 children

Location: Galle
Book TT Beach Villa Now
TT Beach Villa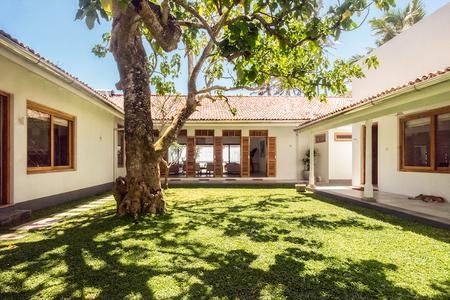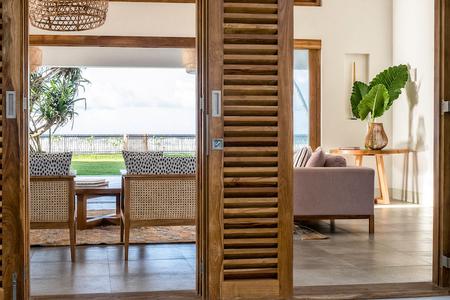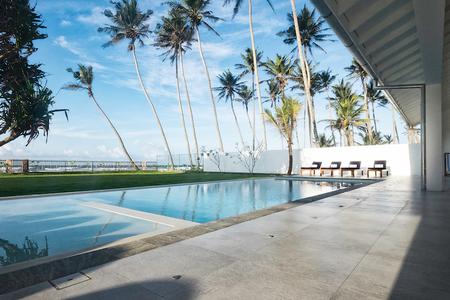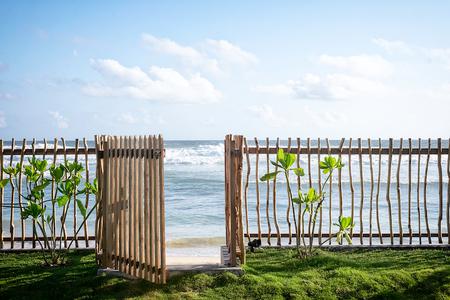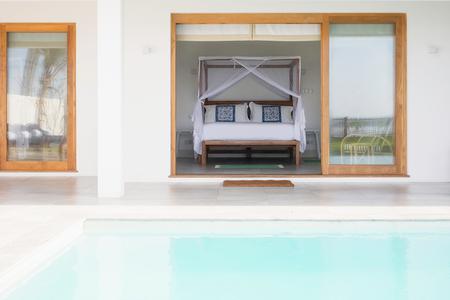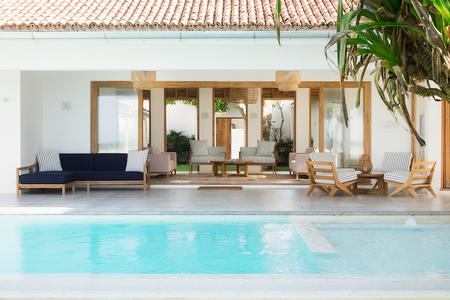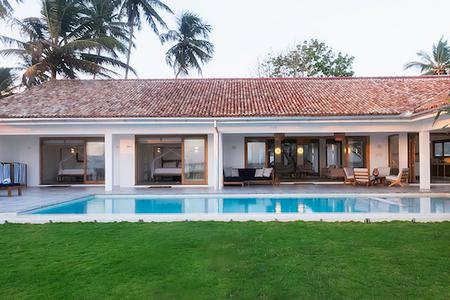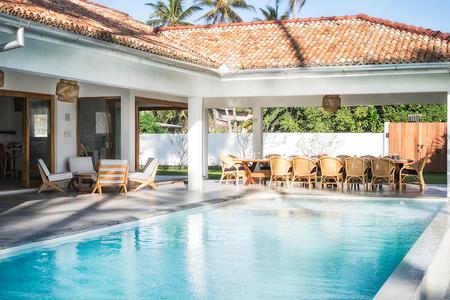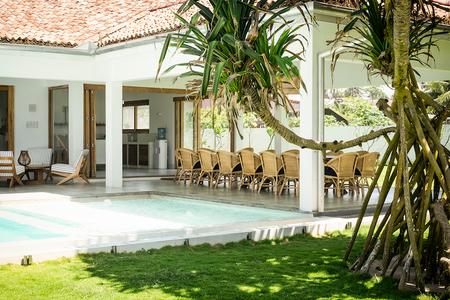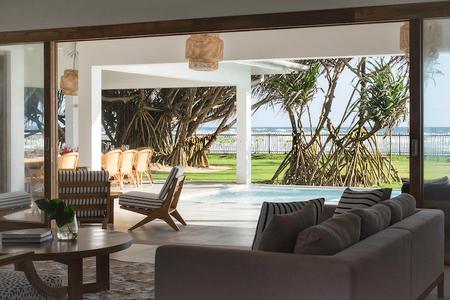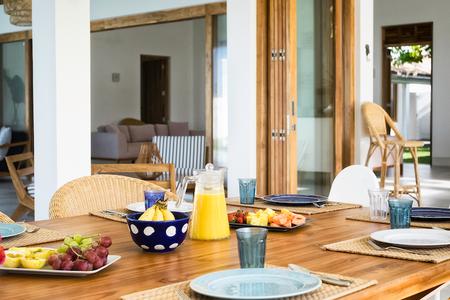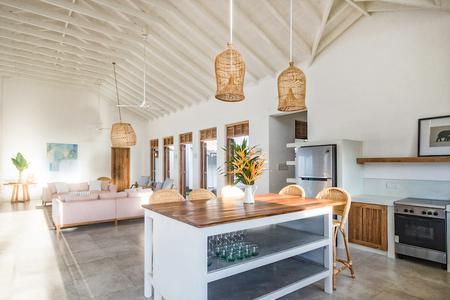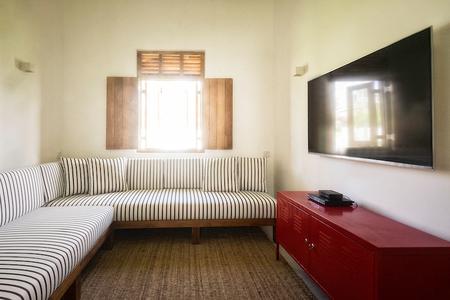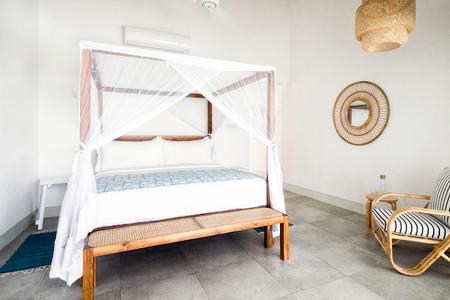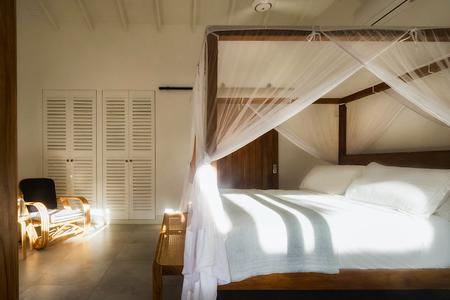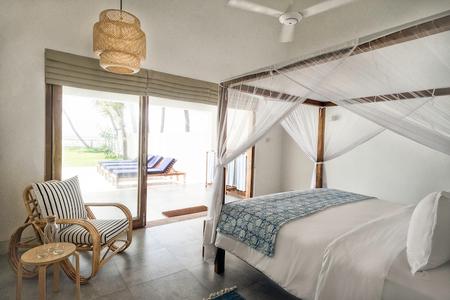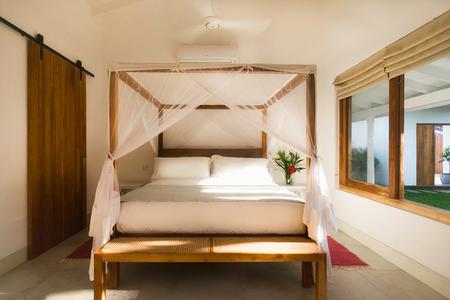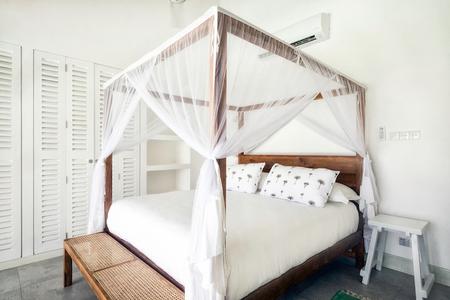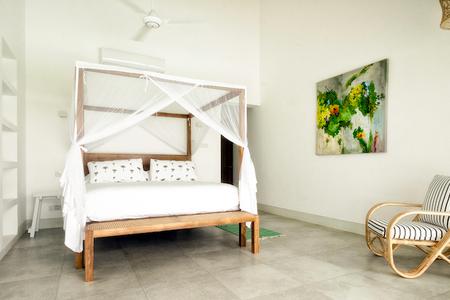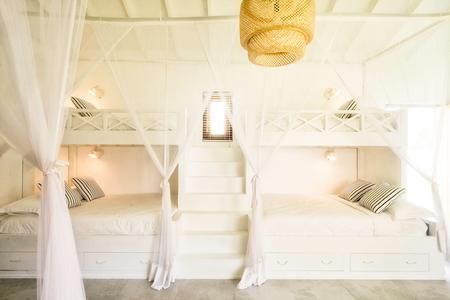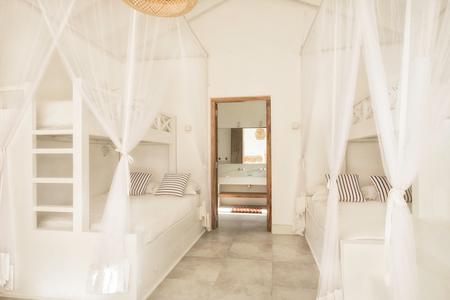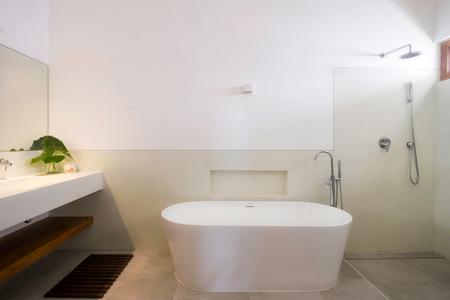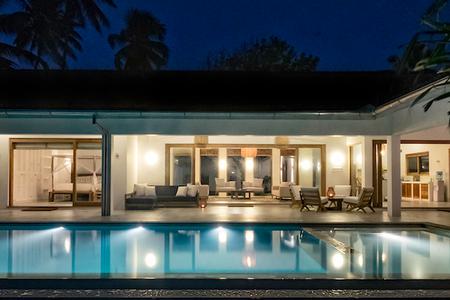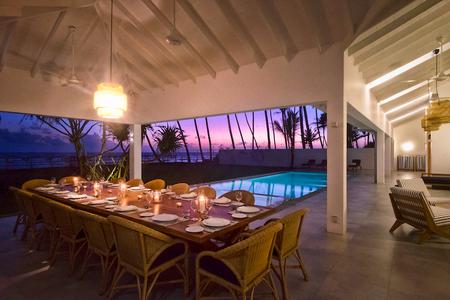 Details
TT Beach Villa is a lovely modern family friendly luxury beach villa located a few KM from historical sites, shops and restaurants, ancient Temples in tropical countryside settings, whale watching sites, surf breaks and comes with a private secured access directly onto a soft golden sandy beach. The design of the house is modern with clean lines and functional living that is relaxing to the senses.
Set well away from the hustle and bustle the villa is accessed via a small village road leading to the paved entrance. Step into the private grounds through large teak double doors and the view to the ocean will captivate your attention. It is so welcoming, relaxing and oddly familiar that immediately upon seeing it you will think it has always been yours. And why not. The doors will be closed behind you and the villa staff will take your bags….welcome home.
Two of the five bedrooms overlook the inner courtyard garden, the children's bunk room with six beds is opposite and the remaining two master bedroom suites have views over the 13m pool and out to sea. All bedrooms are well laid out with air con and are ensuite.
Central to the house is a large open plan sitting room and kitchen that has a breakfast bar. This is a house built by people with small children and so every thought to the parents having a lovely holiday whilst able to keep an eye on the kids has been turned into reality.
Large floor to ceiling doors open up the south facing front of the house onto the pool and covered dining verandah and the manicured lawn flows into the beach.
5 rooms

Sleeps: 17

Location: Galle

Tropical breakfast included

10% service charge to be added

4 king size bedroom suites

1 children's bunk with 6 bunks (3 of which are queen size)

All bedrooms air con and ensuite

Pool safety fence avail on request

Separate TV room

13m pool

Direct and private beach access

Large lawn

Open plan sitting and kitchen

Dining on covered verandah

Close to Galle

2 - 3hrs from Colombo airport

Close to seasonal surf and whale watching

Cook and house staff
Floorplan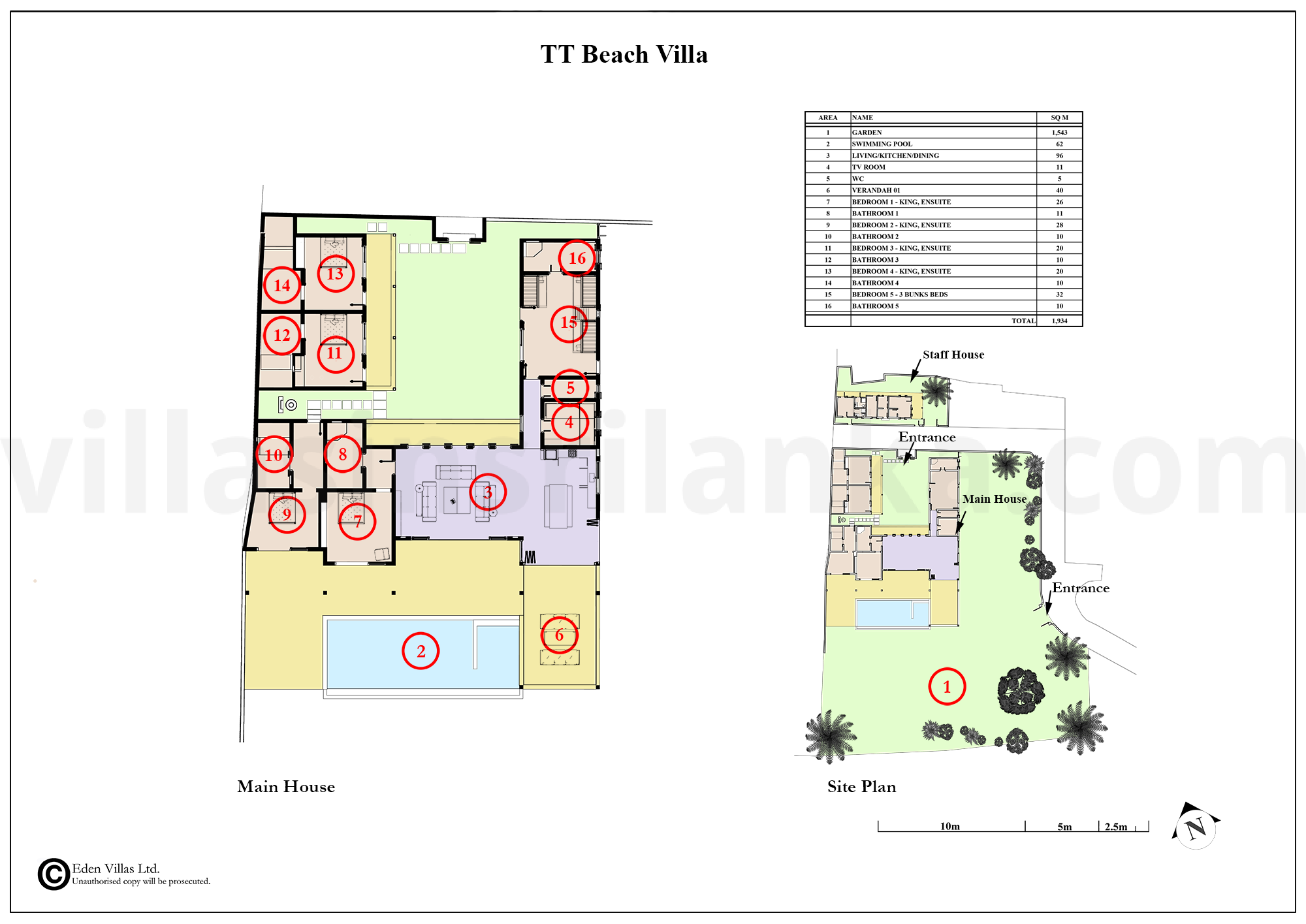 Rates and availability
All prices in US dollars per night per villa
2018 October
M
T
W
T
F
S
S
1
2
3
4
5
6
7
8
9
10
11
12
13
14
15
16
17
18
19
20
21
22
23
24
25
26
27
28
29
30
31

2018 November
M
T
W
T
F
S
S
1
2
3
4
5
6
7
8
9
10
11
12
13
14
15
16
17
18
19
20
21
22
23
24
25
26
27
28
29
30

2018 December
M
T
W
T
F
S
S
1
2
3
4
5
6
7
8
9
10
11
12
13
14
15
16
17
18
19
20
21
22
23
24
25
26
27
28
29
30
31

1st-13th: $950

14th on: $2,500

2019 January
M
T
W
T
F
S
S
1
2
3
4
5
6
7
8
9
10
11
12
13
14
15
16
17
18
19
20
21
22
23
24
25
26
27
28
29
30
31

1st-6th: $2,500

7th on: $1,500

2019 February
M
T
W
T
F
S
S
1
2
3
4
5
6
7
8
9
10
11
12
13
14
15
16
17
18
19
20
21
22
23
24
25
26
27
28

2019 March
M
T
W
T
F
S
S
1
2
3
4
5
6
7
8
9
10
11
12
13
14
15
16
17
18
19
20
21
22
23
24
25
26
27
28
29
30
31

1st-28th: $1,100

29th on: $1,500

2019 April
M
T
W
T
F
S
S
1
2
3
4
5
6
7
8
9
10
11
12
13
14
15
16
17
18
19
20
21
22
23
24
25
26
27
28
29
30

1st-4th: $1,500

5th on: $1,100

2019 May
M
T
W
T
F
S
S
1
2
3
4
5
6
7
8
9
10
11
12
13
14
15
16
17
18
19
20
21
22
23
24
25
26
27
28
29
30
31

2019 June
M
T
W
T
F
S
S
1
2
3
4
5
6
7
8
9
10
11
12
13
14
15
16
17
18
19
20
21
22
23
24
25
26
27
28
29
30

2019 July
M
T
W
T
F
S
S
1
2
3
4
5
6
7
8
9
10
11
12
13
14
15
16
17
18
19
20
21
22
23
24
25
26
27
28
29
30
31

2019 August
M
T
W
T
F
S
S
1
2
3
4
5
6
7
8
9
10
11
12
13
14
15
16
17
18
19
20
21
22
23
24
25
26
27
28
29
30
31

2019 September
M
T
W
T
F
S
S
1
2
3
4
5
6
7
8
9
10
11
12
13
14
15
16
17
18
19
20
21
22
23
24
25
26
27
28
29
30

2019 October
M
T
W
T
F
S
S
1
2
3
4
5
6
7
8
9
10
11
12
13
14
15
16
17
18
19
20
21
22
23
24
25
26
27
28
29
30
31

2019 November
M
T
W
T
F
S
S
1
2
3
4
5
6
7
8
9
10
11
12
13
14
15
16
17
18
19
20
21
22
23
24
25
26
27
28
29
30

2019 December
M
T
W
T
F
S
S
1
2
3
4
5
6
7
8
9
10
11
12
13
14
15
16
17
18
19
20
21
22
23
24
25
26
27
28
29
30
31

1st-13th: $1,100

14th on: $2,500

2020 January
M
T
W
T
F
S
S
1
2
3
4
5
6
7
8
9
10
11
12
13
14
15
16
17
18
19
20
21
22
23
24
25
26
27
28
29
30
31

2020 February
M
T
W
T
F
S
S
1
2
3
4
5
6
7
8
9
10
11
12
13
14
15
16
17
18
19
20
21
22
23
24
25
26
27
28
29

2020 March
M
T
W
T
F
S
S
1
2
3
4
5
6
7
8
9
10
11
12
13
14
15
16
17
18
19
20
21
22
23
24
25
26
27
28
29
30
31

2020 April
M
T
W
T
F
S
S
1
2
3
4
5
6
7
8
9
10
11
12
13
14
15
16
17
18
19
20
21
22
23
24
25
26
27
28
29
30

2020 May
M
T
W
T
F
S
S
1
2
3
4
5
6
7
8
9
10
11
12
13
14
15
16
17
18
19
20
21
22
23
24
25
26
27
28
29
30
31

2020 June
M
T
W
T
F
S
S
1
2
3
4
5
6
7
8
9
10
11
12
13
14
15
16
17
18
19
20
21
22
23
24
25
26
27
28
29
30

2020 July
M
T
W
T
F
S
S
1
2
3
4
5
6
7
8
9
10
11
12
13
14
15
16
17
18
19
20
21
22
23
24
25
26
27
28
29
30
31

2020 August
M
T
W
T
F
S
S
1
2
3
4
5
6
7
8
9
10
11
12
13
14
15
16
17
18
19
20
21
22
23
24
25
26
27
28
29
30
31

2020 September
M
T
W
T
F
S
S
1
2
3
4
5
6
7
8
9
10
11
12
13
14
15
16
17
18
19
20
21
22
23
24
25
26
27
28
29
30
Similar villas