4 rooms

Sleeps: 10

Sleeps: 8 adults and 2 children

Location: Galle
Book Villa Blue Now
Villa Blue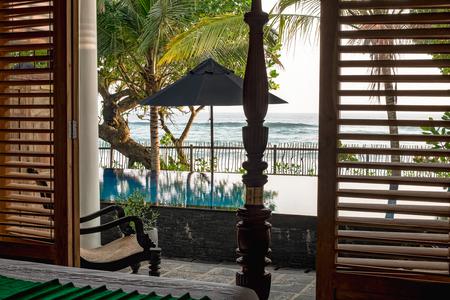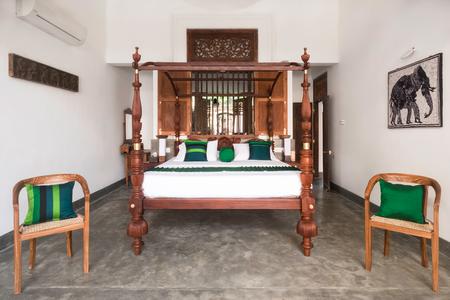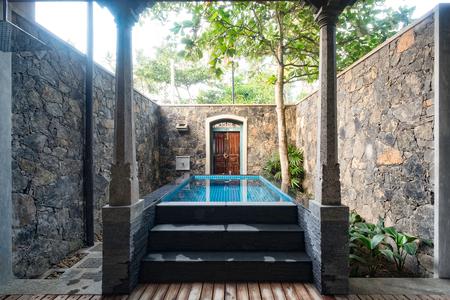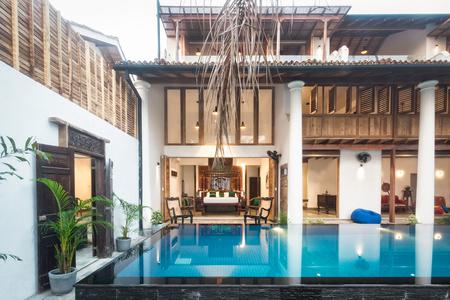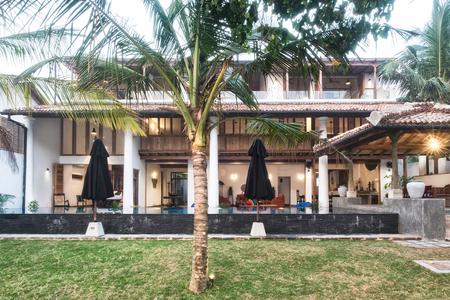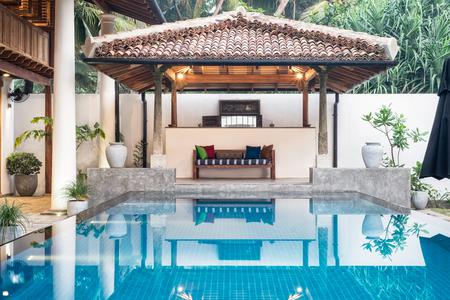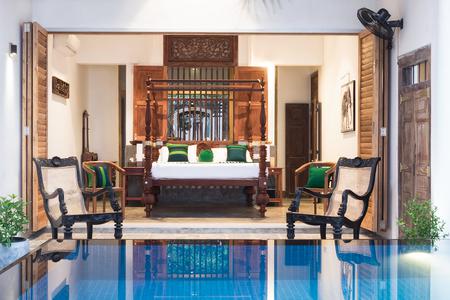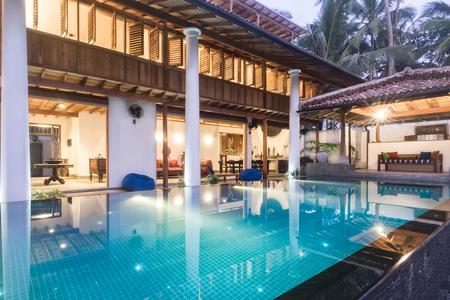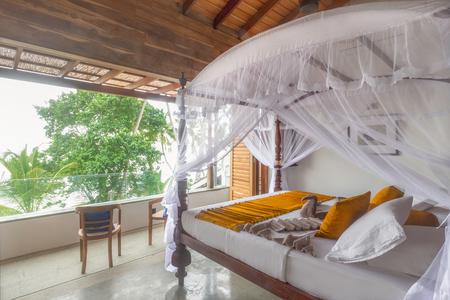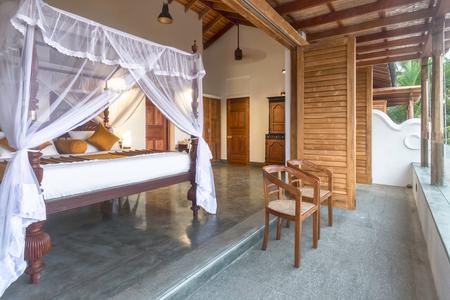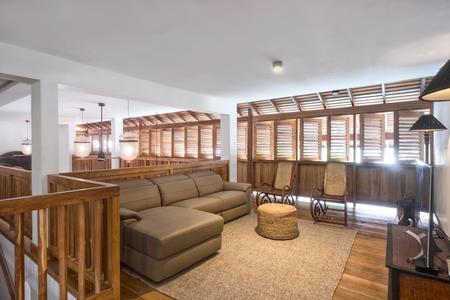 Details
With the alluring turquoise waters of the Indian Ocean and white sandy beaches of Thalpe directly on your doorstep, this villa is the ideal place to relax and enjoy the highlights of Sri Lanka's south coast.
Set over three floors, this stunning villa offers four air-conditioned, en-suites bedrooms, large open-plan living area, media room and kitchen. The master suite, situated on the ground floor, has an enormous walk-in bath tub within its own private courtyard. The family room on the second level has two bunk beds and a double bed (hidden in the wall). The remaining double rooms are located on the third floor, where there is also a bar with stunning views over the swaying palm trees to the ocean. The beach-facing side of the villa can enjoy the cooling sea breeze with café style Louvre doors and traditional sash windows. The private pool stretches the width of the villa with a bar and BBQ under the thatched ambalama
Inspired by the iconic Geoffrey Bawa, the villa is a contemporary take on his famous "Tropical Modernism". The mix of colonial features, intelligent design and the use of natural elements creates a truly unique Villa that radiates luxury and comfort.
4 rooms

Sleeps: 10

Location: Galle
Rates and availability
All prices in US dollars per night per villa
2018 July
M
T
W
T
F
S
S
1
2
3
4
5
6
7
8
9
10
11
12
13
14
15
16
17
18
19
20
21
22
23
24
25
26
27
28
29
30
31

2018 August
M
T
W
T
F
S
S
1
2
3
4
5
6
7
8
9
10
11
12
13
14
15
16
17
18
19
20
21
22
23
24
25
26
27
28
29
30
31

2018 September
M
T
W
T
F
S
S
1
2
3
4
5
6
7
8
9
10
11
12
13
14
15
16
17
18
19
20
21
22
23
24
25
26
27
28
29
30

2018 October
M
T
W
T
F
S
S
1
2
3
4
5
6
7
8
9
10
11
12
13
14
15
16
17
18
19
20
21
22
23
24
25
26
27
28
29
30
31

2018 November
M
T
W
T
F
S
S
1
2
3
4
5
6
7
8
9
10
11
12
13
14
15
16
17
18
19
20
21
22
23
24
25
26
27
28
29
30

1st-15th: $700

16th on: $800

2018 December
M
T
W
T
F
S
S
1
2
3
4
5
6
7
8
9
10
11
12
13
14
15
16
17
18
19
20
21
22
23
24
25
26
27
28
29
30
31

1st-15th: $800

16th on: $1,400

2019 January
M
T
W
T
F
S
S
1
2
3
4
5
6
7
8
9
10
11
12
13
14
15
16
17
18
19
20
21
22
23
24
25
26
27
28
29
30
31

1st-10th: $1,400

11th on: $1,000

2019 February
M
T
W
T
F
S
S
1
2
3
4
5
6
7
8
9
10
11
12
13
14
15
16
17
18
19
20
21
22
23
24
25
26
27
28

2019 March
M
T
W
T
F
S
S
1
2
3
4
5
6
7
8
9
10
11
12
13
14
15
16
17
18
19
20
21
22
23
24
25
26
27
28
29
30
31

2019 April
M
T
W
T
F
S
S
1
2
3
4
5
6
7
8
9
10
11
12
13
14
15
16
17
18
19
20
21
22
23
24
25
26
27
28
29
30

2019 May
M
T
W
T
F
S
S
1
2
3
4
5
6
7
8
9
10
11
12
13
14
15
16
17
18
19
20
21
22
23
24
25
26
27
28
29
30
31

2019 June
M
T
W
T
F
S
S
1
2
3
4
5
6
7
8
9
10
11
12
13
14
15
16
17
18
19
20
21
22
23
24
25
26
27
28
29
30

2019 July
M
T
W
T
F
S
S
1
2
3
4
5
6
7
8
9
10
11
12
13
14
15
16
17
18
19
20
21
22
23
24
25
26
27
28
29
30
31

2019 August
M
T
W
T
F
S
S
1
2
3
4
5
6
7
8
9
10
11
12
13
14
15
16
17
18
19
20
21
22
23
24
25
26
27
28
29
30
31

2019 September
M
T
W
T
F
S
S
1
2
3
4
5
6
7
8
9
10
11
12
13
14
15
16
17
18
19
20
21
22
23
24
25
26
27
28
29
30

2019 October
M
T
W
T
F
S
S
1
2
3
4
5
6
7
8
9
10
11
12
13
14
15
16
17
18
19
20
21
22
23
24
25
26
27
28
29
30
31

2019 November
M
T
W
T
F
S
S
1
2
3
4
5
6
7
8
9
10
11
12
13
14
15
16
17
18
19
20
21
22
23
24
25
26
27
28
29
30

2019 December
M
T
W
T
F
S
S
1
2
3
4
5
6
7
8
9
10
11
12
13
14
15
16
17
18
19
20
21
22
23
24
25
26
27
28
29
30
31

2020 January
M
T
W
T
F
S
S
1
2
3
4
5
6
7
8
9
10
11
12
13
14
15
16
17
18
19
20
21
22
23
24
25
26
27
28
29
30
31

2020 February
M
T
W
T
F
S
S
1
2
3
4
5
6
7
8
9
10
11
12
13
14
15
16
17
18
19
20
21
22
23
24
25
26
27
28
29

2020 March
M
T
W
T
F
S
S
1
2
3
4
5
6
7
8
9
10
11
12
13
14
15
16
17
18
19
20
21
22
23
24
25
26
27
28
29
30
31

2020 April
M
T
W
T
F
S
S
1
2
3
4
5
6
7
8
9
10
11
12
13
14
15
16
17
18
19
20
21
22
23
24
25
26
27
28
29
30

2020 May
M
T
W
T
F
S
S
1
2
3
4
5
6
7
8
9
10
11
12
13
14
15
16
17
18
19
20
21
22
23
24
25
26
27
28
29
30
31

2020 June
M
T
W
T
F
S
S
1
2
3
4
5
6
7
8
9
10
11
12
13
14
15
16
17
18
19
20
21
22
23
24
25
26
27
28
29
30
Similar villas