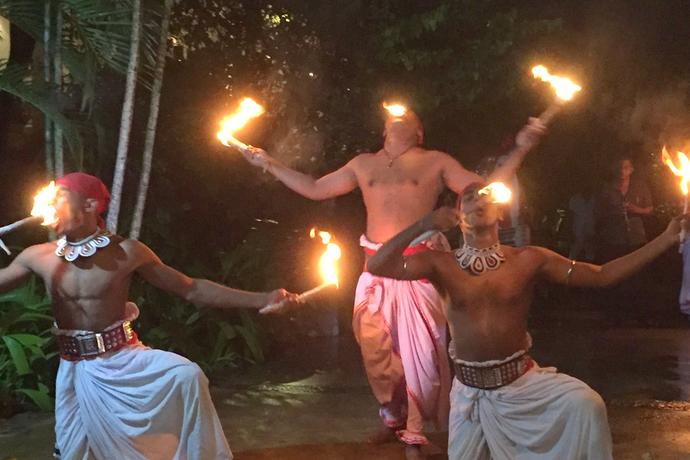 Kandyan dance encompasses various forms of dance hailing from the ancient capital city of Kandy.
According to the legend, the origins of the dance lies in a ritual known as the Kohomba Kankariya (named for the deity Kohomba). Traditional dance masters believe that originally the king of a place referred to as "Malaya Rata", and his two brothers, performed the first Kohomba kankariya.
The legend states that the three shaman came to the island as a result of a trick by the god Sakra in order to cure the king, Panduwasdev, who was suffering from a mysterious illness. After the performance the illness vanished and many natives adopted the dance.
The dance waned in popularity as the support for the dancers from the Kandyan kings ended during the British period but it has been revived and is now Sri Lanka's primary cultural export. Dancers perform in domestic celebrations such as at weddings; commercial ones like the opening of a new enterprise and political ones such as the opening of a new Parliament. Every walk of life really.
The largest collection of dancers at one time is the July/August dalada perahera (procession) held in Kandy, which can trace its roots to the 4th Century AD.
The dancers in this image, performing in a villa, are fire eaters. They demonstrate their power over fire by moving a burning flame across their bodies as well as extinguish flames in their mouths. If you are staying in a villa we can arrange for a private performance which can be a highlight to a special evening.