Turtle Bay Retreat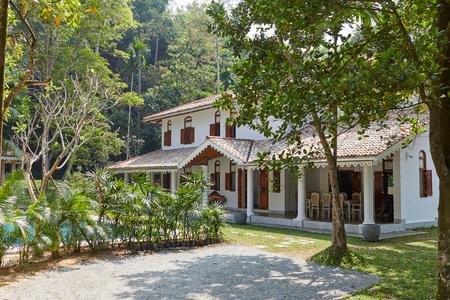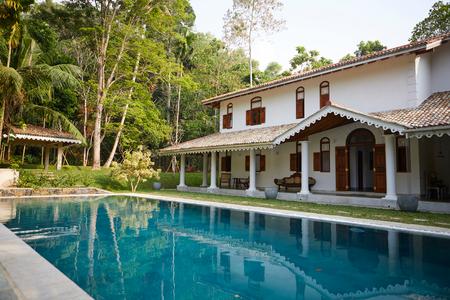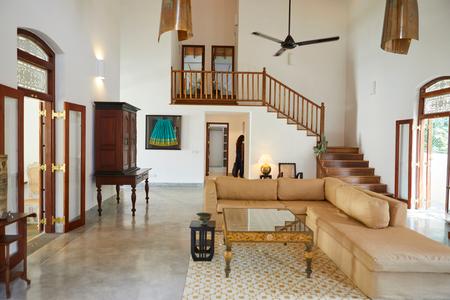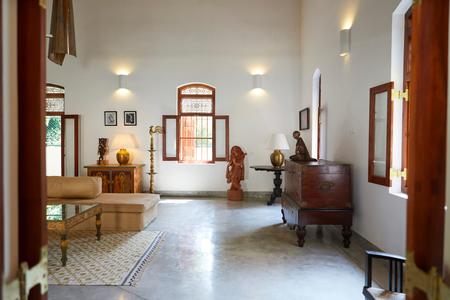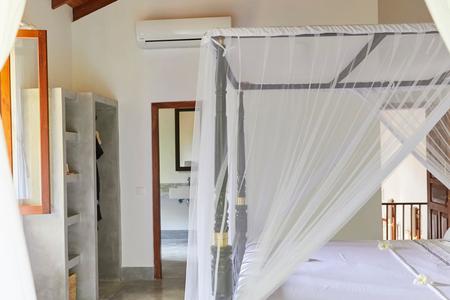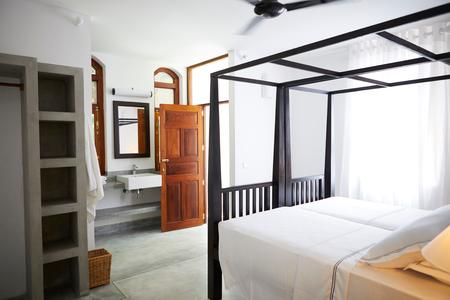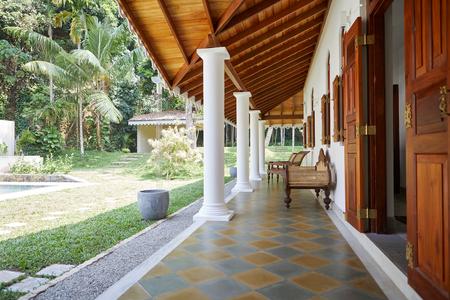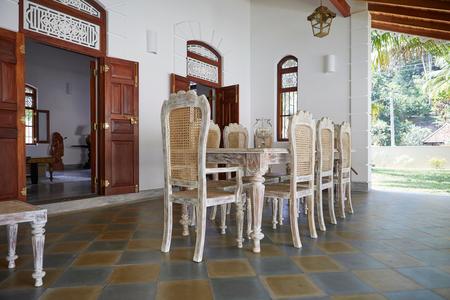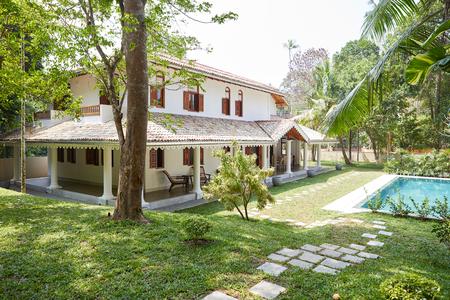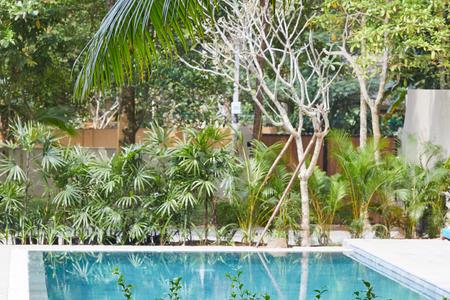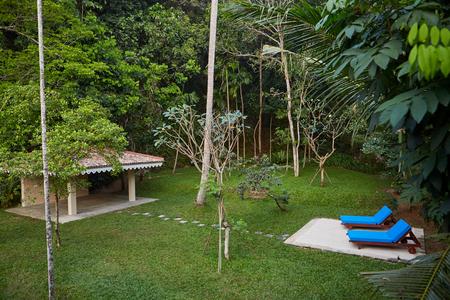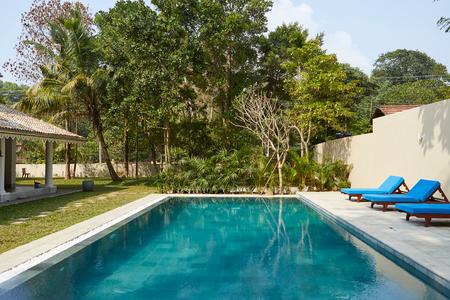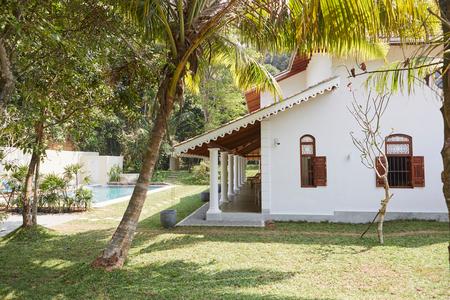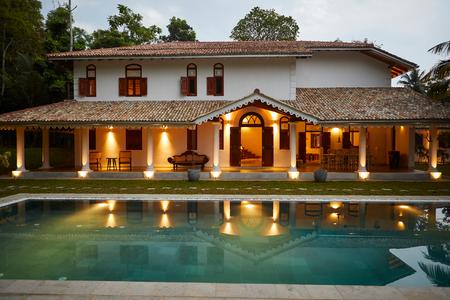 Details
A wonderful retreat in Weligama designed by a British Sri-Lankan interior designer. Recently renovated and lovingly restored using the original features and in keeping with the former footprint, the villa has been carefully crafted with comfort and relaxation at the forefront.
From the beautiful outdoor terrace, you walk into a stylish and elegant double height sitting room with a fully equipped kitchen to your right and downstairs loo to your left. Off this are the four bedrooms, all with A/C, overhead fans, 4 poster beds, safes, plentiful hanging space and en suite bathrooms with walk in showers. Two of the double bedrooms are on the first floor and have Juliette balconies overlooking the garden, the remaining two (a double and twin, which can be made into a double) are on the ground floor. There is an additional room with A/C also on the ground floor with a large daybed, suitable as a single room for kids or as a study.
A fantastic 12m pool sits opposite the house where you can swim beneath the palms or lay out on the large deck area. Overlooking the pool from the gentle terraced lawn is a very pretty yoga shala. This multi purpose pavilion is the perfect spot for sipping sundowners, practicing yoga asanas or enjoying an Ayurvedic massage in the Frangipani scented shade. Across the garden is a further sunbathing platform for those looking for an alfresco afternoon snooze or a good book moment.
Sensitive landscaping plays a special role in this serendipitous property, as does the spectacular and vast living cliff wall which acts as the natural border of the tropical Frangipani and palm fringed garden.
This is the ultimate house to relax and unwind in. Also just 100m from Turtle Beach in Weligama Bay, the buzzing nearby town with restaurants, bars and surfing beaches, you have everything on your doorstep. A villa manager and team of house staff are on hand to look after your every whim so you couldn't wish to be better looked after.
4 rooms

Sleeps: 8

Location: Weligama

4 bedrooms en suite with walk in showers

3 king doubles + 1 twin

2 bedrooms on ground floor

2 bedrooms on first floor with balconies

Swimming pool

Sun deck

Yoga shala / Massage space

Tropical garden

Outdoor dining area seats 10

Indoor dining area seats 6 -8

TV Room + Study (Single bed)

WIFI

House Staff

Breakfast included

Safes available

Close to beaches

Chef available by arrangement and included in some special offers
Floorplan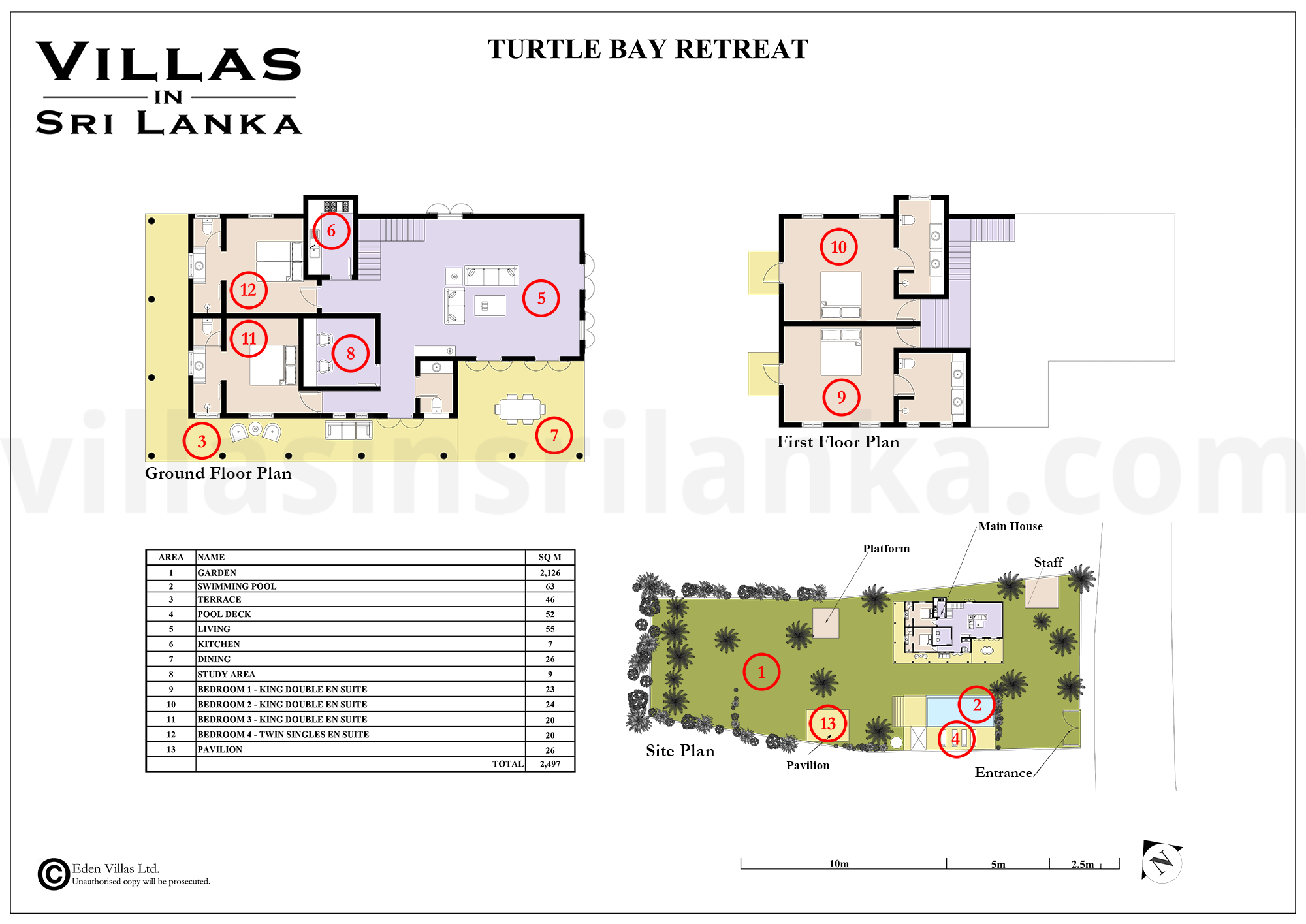 Rates and availability
All prices in US dollars per night per villa
2023 December
M
T
W
T
F
S
S
1
2
3
4
5
6
7
8
9
10
11
12
13
14
15
16
17
18
19
20
21
22
23
24
25
26
27
28
29
30
31

2024 January
M
T
W
T
F
S
S
1
2
3
4
5
6
7
8
9
10
11
12
13
14
15
16
17
18
19
20
21
22
23
24
25
26
27
28
29
30
31

2024 February
M
T
W
T
F
S
S
1
2
3
4
5
6
7
8
9
10
11
12
13
14
15
16
17
18
19
20
21
22
23
24
25
26
27
28
29

2024 March
M
T
W
T
F
S
S
1
2
3
4
5
6
7
8
9
10
11
12
13
14
15
16
17
18
19
20
21
22
23
24
25
26
27
28
29
30
31

2024 April
M
T
W
T
F
S
S
1
2
3
4
5
6
7
8
9
10
11
12
13
14
15
16
17
18
19
20
21
22
23
24
25
26
27
28
29
30

2024 May
M
T
W
T
F
S
S
1
2
3
4
5
6
7
8
9
10
11
12
13
14
15
16
17
18
19
20
21
22
23
24
25
26
27
28
29
30
31

2024 June
M
T
W
T
F
S
S
1
2
3
4
5
6
7
8
9
10
11
12
13
14
15
16
17
18
19
20
21
22
23
24
25
26
27
28
29
30

2024 July
M
T
W
T
F
S
S
1
2
3
4
5
6
7
8
9
10
11
12
13
14
15
16
17
18
19
20
21
22
23
24
25
26
27
28
29
30
31

2024 August
M
T
W
T
F
S
S
1
2
3
4
5
6
7
8
9
10
11
12
13
14
15
16
17
18
19
20
21
22
23
24
25
26
27
28
29
30
31

2024 September
M
T
W
T
F
S
S
1
2
3
4
5
6
7
8
9
10
11
12
13
14
15
16
17
18
19
20
21
22
23
24
25
26
27
28
29
30

2024 October
M
T
W
T
F
S
S
1
2
3
4
5
6
7
8
9
10
11
12
13
14
15
16
17
18
19
20
21
22
23
24
25
26
27
28
29
30
31

2024 November
M
T
W
T
F
S
S
1
2
3
4
5
6
7
8
9
10
11
12
13
14
15
16
17
18
19
20
21
22
23
24
25
26
27
28
29
30

2024 December
M
T
W
T
F
S
S
1
2
3
4
5
6
7
8
9
10
11
12
13
14
15
16
17
18
19
20
21
22
23
24
25
26
27
28
29
30
31

2025 January
M
T
W
T
F
S
S
1
2
3
4
5
6
7
8
9
10
11
12
13
14
15
16
17
18
19
20
21
22
23
24
25
26
27
28
29
30
31

2025 February
M
T
W
T
F
S
S
1
2
3
4
5
6
7
8
9
10
11
12
13
14
15
16
17
18
19
20
21
22
23
24
25
26
27
28

2025 March
M
T
W
T
F
S
S
1
2
3
4
5
6
7
8
9
10
11
12
13
14
15
16
17
18
19
20
21
22
23
24
25
26
27
28
29
30
31

2025 April
M
T
W
T
F
S
S
1
2
3
4
5
6
7
8
9
10
11
12
13
14
15
16
17
18
19
20
21
22
23
24
25
26
27
28
29
30

2025 May
M
T
W
T
F
S
S
1
2
3
4
5
6
7
8
9
10
11
12
13
14
15
16
17
18
19
20
21
22
23
24
25
26
27
28
29
30
31

2025 June
M
T
W
T
F
S
S
1
2
3
4
5
6
7
8
9
10
11
12
13
14
15
16
17
18
19
20
21
22
23
24
25
26
27
28
29
30

2025 July
M
T
W
T
F
S
S
1
2
3
4
5
6
7
8
9
10
11
12
13
14
15
16
17
18
19
20
21
22
23
24
25
26
27
28
29
30
31

2025 August
M
T
W
T
F
S
S
1
2
3
4
5
6
7
8
9
10
11
12
13
14
15
16
17
18
19
20
21
22
23
24
25
26
27
28
29
30
31

2025 September
M
T
W
T
F
S
S
1
2
3
4
5
6
7
8
9
10
11
12
13
14
15
16
17
18
19
20
21
22
23
24
25
26
27
28
29
30

2025 October
M
T
W
T
F
S
S
1
2
3
4
5
6
7
8
9
10
11
12
13
14
15
16
17
18
19
20
21
22
23
24
25
26
27
28
29
30
31

2025 November
M
T
W
T
F
S
S
1
2
3
4
5
6
7
8
9
10
11
12
13
14
15
16
17
18
19
20
21
22
23
24
25
26
27
28
29
30
Similar villas